May 13, 2020 Update
HUD has published a new page with Questions and Answers for both owner/agents and residents of Multifamily Housing programs.  Topics include:
April 27, 2020 Update
HUD has issued the following brochure to answer resident questions.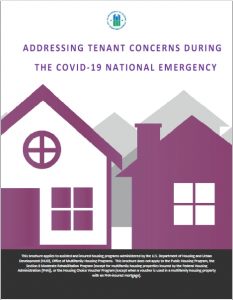 March 16, 2020
During this rapidly changing national state of emergency, our management office will be doing their best to slow down as much day-to-day foot traffic as possible. To provide all the residents and staff with a safe environment, we are adjusting the property activities as follows:
Effective immediately, we are closing the Rental/Management Offices to the public traffic and asking that residents only visit the office after calling ahead to make an appointment. This way we can control the amount of people in the office for everyone's safety. It is necessary that we ask any resident that is sick to not visit the office. If there is anything that you need to have delivered to the office, please have it dropped off or we will arrange to have it picked up from your apartment. All rent checks should be delivered through the drop box or mail slot at the community's rental office.
All Maintenance requests should be called into the office and for the safety of the staff, only emergency maintenance will be addressed at this time. Emergency maintenance will include urgent needs such as no heat or a/c, non-working appliances, clogged drains, malfunctioning smoke detectors, security issues such as a key or door issue and any other repairs needed to keep the resident safe and secure.
Due to the current steps being taken by the Federal Government, Quantum Real Estate Management is doing their part to slow this virus down. We will continue to work with cleaning and staff to ensure that everything is being done to keep the building clean and as germ free as possible.
We will monitor the situation daily and keep all residents informed as often as necessary. It is our hope that this situation will not last for a long period of time, but in the interim, we ask for your continued patience and understanding.
Communities with Bus/Van must restrict participants to no more the 5 residents. Multiple trips might be necessary.
Senior Communities that have common areas that can be restricted by closing a door should be closed until further notice.