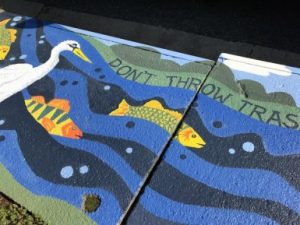 Don't Throw Your Trash Where the Fish Splash
By NHT Sustainability Manager Kathleen Berube
Few of us routinely think about our personal actions and the quality of our watershed. Why would we? We're all busy, wrapped up in our daily lives. We don't consider the impact of the bottle we saw on the ground, the trash that blew by or the soap we used to wash our car. Even though we may not be aware, our actions have a tremendous impact on the quality of stormwater. Many seemingly benign actions have a very real detrimental effect on aquatic ecosystems. Changing our behaviors is not hard, but sometimes we need a little reminder.